About Us
Know us, Choose us, or even Join us!
Hwayi construction Ltd (9902333 Canada Ltd) is a contracting company located in Dartmouth, Nova Scotia, Canada. The company established in 2016, the company is new but very competitive. We do residential & commercial renovation and new construction. We grow fast!
Opening Position
Project Supervisor (Full-time)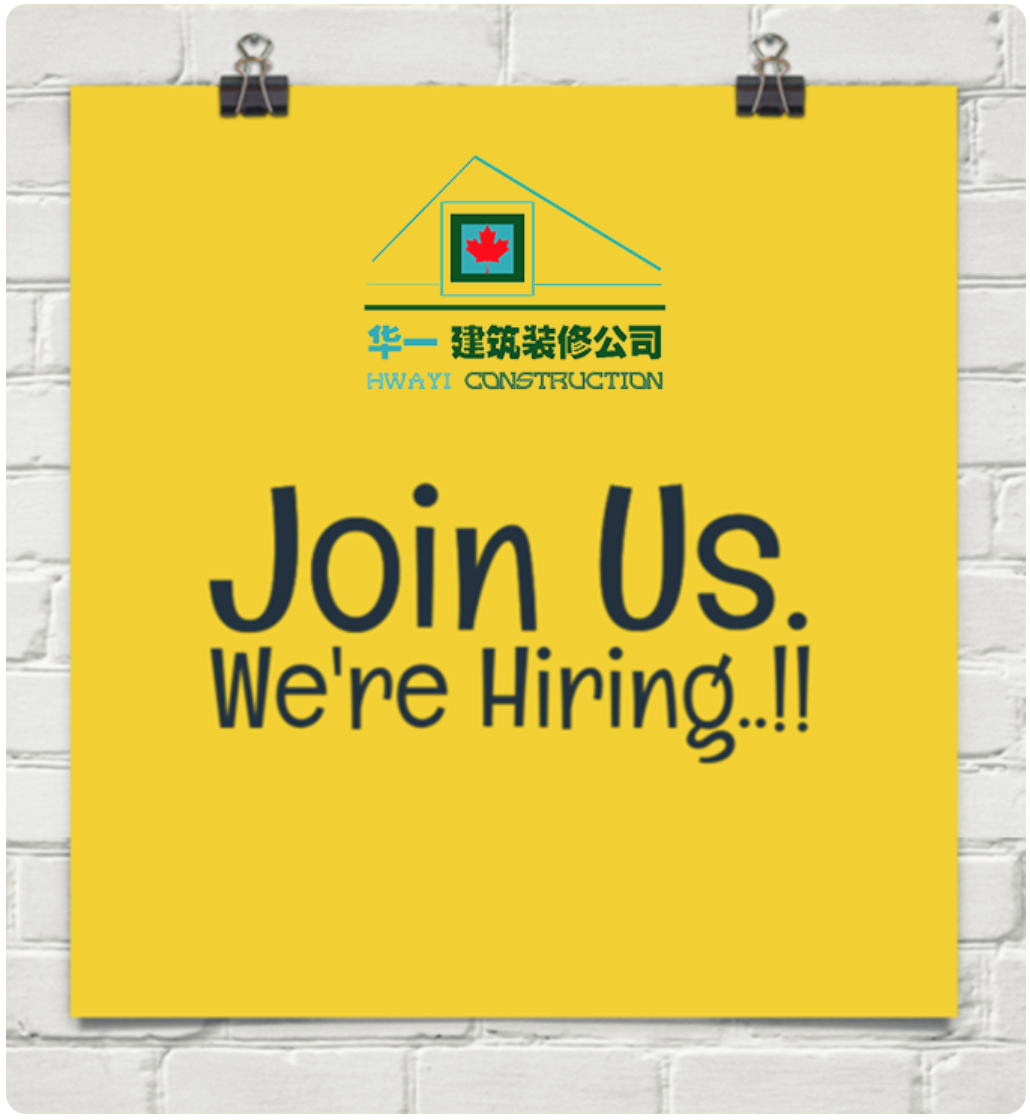 Responsibility
Coordinate stakeholders to ensure the projects go smoothly

Control the cost to make sure the profit maximize

Estimate materials and assign tools for different projects

Provide training for workers

Prepare work schedules and ensure the schedule to be followed

Ensure the safety at working site during the work

Other work assigned by the manager
Qualifications
Diploma in construction management or commerce management is preferred

Experience is required (over 3-year experience is preferred)

Strong organization and communication skill

Ability to work collaboratively as well as to work independently

Bilingual in English and Mandarin is preferred
What We Offer
Hwayi construction Ltd (9902333 Canada Ltd) is a young but rapidly growing company. Besides a good salary, we provide a company truck and allowance (e.g: gas, lunch, phone bill, etc.) for the candidate.

Always Patient
Be ready for trouble shooting and all kinds of detailed pieces of work.

Innovative Ideas
We always value creativity when doing our jobs.

Managed Work
Things always get easier when everything is organized in a smart way.

Clear Communication
Clearly deliver message between clients and your co-workers.
Don't Be Shy. Get In Touch.
If you are interested in working together, send us an inquiry and we will get back to you as soon as we can!
Contact Us